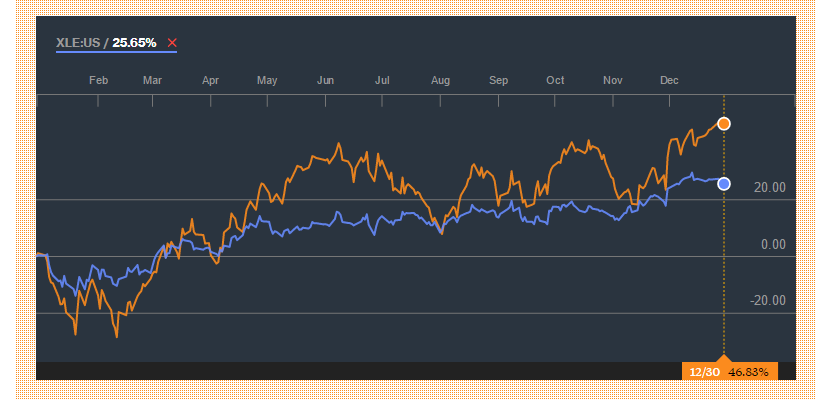 BlackVault Investments: 2017 Outlook
Seeking Alpha
Summary 2016 in Review:
Defensive Shifts to Offensive.
Energy continues to be our favorite play headed into the New Year.
The Trump Trade: Is it all its choked up to be?
2016 was an exciting year for financial markets fraught with volatility and changing dynamics that took investors for a fun ride throughout the year. Some of the defining themes of defensive strategies that succeeded throughout the first half of the year shifted as the political and monetary policy backdrops changed paving the way for a revival of the rotation trade into cyclicals. Today, we examine the outlook as it stands into 2017 with a new president, shifting political landscapes in Europe, and dichotomous monetary policies from each end of the Atlantic.
A Story that is Far Less Told:
A story that I have been examining through 2016 is the pickup in the commodities complex. We have seen strong outperformance in the commodity space, particularly energy.
While our view continues to remain cautious in the near term, we remain overweight energy stocks as we believe that we are in the ending stages of a 2 year downturn and are expecting demand to outweigh supply into 2017 supported by OPEC supply cuts and a reversal of cost deflation in the sector pushing oil prices beyond $60 in 2H 2017. We believe this outlook supports crude oil E&P companies that are leveraged to underlying price moves in WTI. With a healthy dose of skepticism persisting in the market, we feel that the sector offers some compelling value. We are stressing the overweight exposure to upstream E&P vs. integrated majors and service sector companies.
This is our base case for 2017 oil prices. Note that seasonal factors in spring and summer could push Q3 estimates past $60 should we receive more clarity regarding the OPEC supply cuts as we modeled for a conservative scenario of a cut of 50-60% of target supply.
Monetary Policy
The Federal Reserve finally bit the bullet and raised short-term interest rates for the first time in a year. Our team, along with everyone else on the Street expected this to happen. We are delighted that the underlying themes of easy money policy are changing as we looked upon those as unhealthy for longer term financial perspectives. The monetary policy outlook will likely remain a factor with the Fed looking to tighten 3 more times. We are skeptical as to the likelihood of such excessive tightening in light of current data, which has been rather volatile. We have loved the financial sector since the summer, and continued rate hikes should provide tailwinds to the sector into 2017. Nevertheless, valuation in the space has been concerning and we are looking toward more undervalued financial stocks that have yet to participate in the rally. We view dips as buying opportunities.
The Dollar
One factor that we are worried about headed into 2017 is the dollar, particularly as it relates to overall corporate profits and the turnaround story in commodities. The Dollar has performed well in 2016 owing to the fact that the US economy continues to outperform other economies and is currently undergoing a tightening cycle whilst other economies are undergoing easing cycles. Current monetary policy outlook supports this rally, and should things continue to favor divergent monetary policy paths, the dollar may remain strong.
Large multinationals will continue to suffer at the hands of a stronger dollar as they did in 2015. Wall Street is looking for a turnaround in corporate profits to support higher valuations. The stronger dollar thwarts these prospects, a negative for equity valuations and a continued cause for concern for investors. I will be heavily watching the dollar into the new year.
The dollar also hurts commodities and their underlying producers as commodities are purchased in US dollars, meaning that a higher dollar will hurt demand. Any rallies in commodities will likely be held in check by a stronger dollar.
Political Pressure Abounds
Political turmoil has been a boon for 2016 investment prospects. The selloff after Brexit was a buying opportunity, and the Trump election was again another buying opportunity. Clearly the politics of rage, as Barclays calls it, has been a saving grace for the cyclical trade. Nevertheless, I believe that 2017 will be the year chickens come home to roost as we will finally begin seeing actual, rather than theoretical changes, to the political landscape.
Donald Trump
Changes will begin on January 20th when Donald Trump takes office. While stocks did well after the election, I remain skeptical to buy into the mantra of 'Make America Great Again'. I believe that deregulation will certainly aid corporate prospects, higher infrastructure spending may not be all what its choked up to be. I highlighted this in a past article on Nov. 8th discussing Trump's planned policies.
Trump is walking a tight rope on Wall Street and expectations may have already been priced in making downside risks high. We continue to express the view that the United States is in a late stage economy and that eventual continued tightening and inflation could perhaps limit gains for equities.
Investors will be heavily involved in examining the rhetoric out of Washington throughout the next year to look for supporting factors for year end forecasts.
Europe
The greatest wild card in 2017 in my opinion is the fate of the Euro. With several elections in France and Germany slated for the new year, the Euro may be on its last leg. The populist wave has taken hold in Europe as we saw first with Brexit, and then with Italy. I believe that a destabilization of the European Union will certainly be a negative for equity investors globally despite the successful performance that past populist victories have brought on for stocks.
Biotechnology
Biotechnology has been a laggard throughout the year. We have been interested in the sector and have bought the dips and sold the rallies throughout the year. Political rhetoric has weighed on the sector creating many value opportunities. Biotech stocks will continue to be supported by demographic factors and potential deregulation. In our view, the political headwinds that have been priced in are likely overdone as we see little getting done in Washington. The sector continues to offer undervalued companies that have proven track records of growing earnings, topping estimates, and innovating new technology. All aside, biotech seems like the pick me up trade in 2017.
Conclusion
We are excited to ring in the new year, and the global landscape offers excitement and opportunity that we are happy to take part in. Investors will have a lot to worry about from China to Europe to Donald Trump and Vladimir Putin. We wish you all success into the New Year!
Source: http://ift.tt/2iYanGs