Top Investments For 2017
Seeking Alpha
2016 Year in Review
2016 was a continuation of the bull market that is now the second longest on record. If it continues into March of this year, it will be the longest bull market ever. Buyer beware.
2016 Market Returns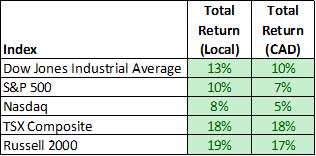 Market returns were strong, with the technology-heavy Nasdaq up by the smallest amount. The Toronto Stock Exchange (TSX) had a strong year as commodities roared back from two-year lows. Agricultural commodities were still weak in 2016.
Owning US dollar (USD) assets was a small detractor for Canadian investors. That said, I am still a USD bull, so no need to hedge the currency yet. In currencies, remember the trend is your friend, and the stronger USD and weaker Canadian dollar (CAD) trend is still intact. There is almost no argument for a stronger Canadian dollar unless oil prices rise significantly.
2016 Stock Recommendations
So how did the stock recommendations for 2016 turn out? Total returns include dividends, and I also included what the total returns were in Canadian dollars. This year, the five stocks picks hit it out of the park with an average gain of 59%, or 57% in CAD.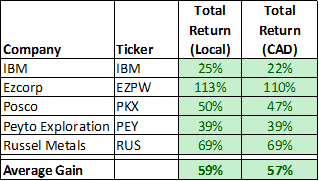 EZPW had a huge year, more than doubling. That result wasn't really surprising given how cheap it was. POSCO, Peyto (OTCPK:PEYUF, TSX: PEY) and Russel Metals (OTCPK:RUSMF, TSX: RUS) all came back to life with the recovery in the energy markets. IBM is still a solid pick that constantly churns out cash. RUSMF was so cheap last year, it was like shooting fish in a barrel.
Source: http://ift.tt/2iKMi2O